Description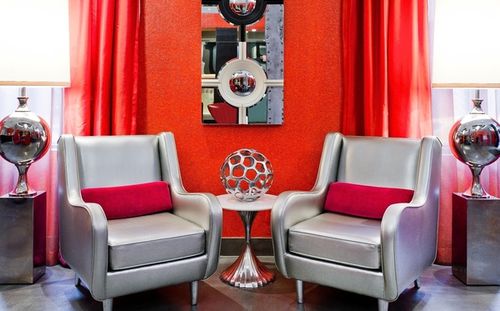 Location. Located in the New York, N.Y., the Ameritania Hotel is in Theatre District on the corner of 54th Street and Broadway. The Museum of Modern Art is two blocks away. The hotel is five blocks from Central Park and Times Square. The Ed Sullivan Theatre, home of The Late Show with David Letterman, is around the corner.
Hotel Features. The Ameritania Hotel features mahogany paneling and hand painted murals. Chandeliers of silver disks furnish the lobby. The Twist Bar features a 60s retro theme and features a lounge area off the lobby. The bar serves complimentary coffee, espresso and tea 24 hours a day. The Twist Lounge specializes in martinis and serves breakfast, lunch, and dinner. The front desk's multilingual staff is available 24 hours. Complimentary wireless Internet access is available. Day passes are available to a fitness center one half block away. Complimentary newspapers are available in the lobby.

Guestrooms. The hotel's 210 guestrooms feature modern furniture and artwork. Guestrooms offer CD players and cable television. Complimentary wireless Internet access is provided. Designer toiletries are complimentary. Refrigerators are available upon request. Weekday newspapers are delivered to guestrooms.

Expert Tip. For a spicy treat, try the "Twist and Shout" at the Twist Lounge, served with Tabasco soaked olives. Other specialty drinks include Manhattans, the "Oliver Twist" and the "Twisted Sister".
Ameritania Hotel
230 W 54th St
10019
Directions
From LaGuardia International Airport:
Approximate distance to the hotel is 10 miles.

Follow signs to Grand Central to I 278 West.
Cross Queensboro Bridge to Second Avenue South Exit.
Turn left onto Second Avenue.
Turn right onto East 57th Street.
Turn left onto Broadway.
Proceed to West 54th Street.
Attractions
Area Attractions: Carnegie Hall 3 Blocks
Radio City Music Hall 5 Blocks
Central Park 5 Blocks
Museum of Modern Art 3 Blocks
Rockefeller Center 6 Blocks
Nearby Landmarks
Ed Sullivan Theater - 0.05 Miles
Theatre District - 0.17 Miles
Carnegie Hall - 0.23 Miles
Gershwin Theater - 0.24 Miles
Circle in the Square Theater - 0.32 Miles

Luxury Hotels
The
Four Seasons
, The Ritz, Marriott, Holiday Inn or any of the
Hilton Hotels in London
you can find all these luxury hotels and others, in total over 15.000, on the luxuryhotelsin.com site. Luxury resorts range from Hawaii beach resorts to the most exlculive Villas in the Caribbean Islands and luxury ski resort in the mountains of Jackson Hole, Wyoming, Aspen, Colorado, or Park City, Utah for the winter season. A list of all luxury hotels and useful luxury travel tips when shopping, dining and wining, sightseeing, staying in one of the most exlusive 5 star hotels in New York City, London, Paris or Madrid.
Budget Hotels in New York
Be it in downtown Manhattan or uptown Harlem, near to the Central Park and financial district skyscrapers or the surrounded by upper the westside residential houses. A list of all budget hotels in New York and useful luxury travel tips for nightlife and shopping.