Description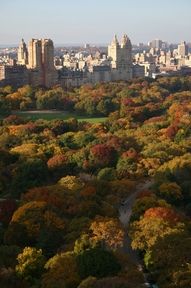 Location. The Sherry Netherland Hotel is an exquisite, boutique style hotel positioned across from Central Park in New York City, N.Y. The high end shopping of Fifth Avenue is adjacent to the hotel and six blocks away is Columbus Circle. Nearby cultural attractions include the Museum of Modern Art and Carnegie Hall, within nine blocks. The hotel is six miles from LaGuardia Airport.
Hotel Features. The Sherry Netherland features hand painted, wood paneled elevators with white gloved attendants, and the intimate lobby was modeled after the Vatican. Preferred sports and theater tickets are available from the full service concierge staff. Business services include high speed Internet access, a Notary public and fax services. The hotel's Snack Emporium offers a variety of snacks from around the world. The hotel boasts a fashionable, designer clothing shop and a shop filled with rare antiques and collectibles. A well equipped fitness center offers weight machines and cardiovascular equipment.
Guestrooms. The Sherry Netherland boasts elegant, individually decorated suites and guestrooms with high ceilings, original artwork, porcelain vases, antique furnishings and large closets. Marble bathrooms feature designer bath products. Complimentary high speed Internet access, VCRs, DVD players and cable television are included. In room massage therapy is also offered. Welcoming gifts of Belgian chocolates, fresh flowers, complimentary sodas and mineral waters are also placed in guestrooms.
Expert Tip. Museum Mile is named for the section of Carnegie Hill that stretches from 82nd to 105th streets on Fifth Avenue where nine museums take up residence including the Metropolitan Museum of Art and the Solomon R. Guggenheim Museum.
The Sherry Netherland
781 5th Ave
10022
Directions
From LaGuardia Airport:
Head toward the Airport Exit on Marine Terminal Rd.
Turn left on Ditmars Blvd.
Turn right on Astoria Blvd.
Take the ramp to the left onto Brooklyn Queens Expy. E
toward Staten Island.
Take the I 278 West exit onto the highway.
Merge onto I 278 West.
Take Exit #40/Broadway onto 69th St. toward Roosevelt Ave.
Turn right on Roosevelt Ave.
Continue on Queens Blvd.(Rt 25).
Queens Blvd. becomes Queensboro Bridge.
Take ramp onto Queensboro Brg Lower Lever.
Take the ramp toward 2nd Ave. South.
Turn left on E. 60th St.
Turn left on 5th Ave.
Attractions
Area Attractions:
Central Park - 0.0 Miles
Fifth Ave Shopping - 0.0 Miles
Madison Ave Shopping - 0.1 Miles
Rockefeller Center - 0.8 Miles
Bergdorf goodman Department Store - 0.0 Miles
BarneyS - 0.2 Miles
Museum Of Modern Art - 0.6 Miles
Lincoln Center - 0.5 Miles
Metropolitan Museum Of Art - 1.0 Miles
Guggenheim Museum - 1.0 Miles
Whitney Museum - 0.8 Miles
We Are Located In Mid town Manhattan, The Heart Of The Corporate Headquarters Of Most Companies.
Nearby Landmarks
Barney's - 0.18 Miles
Tiffany & Co. - 0.2 Miles
Dahesh Museum - 0.28 Miles
Central Park - 0.32 Miles
Sony Wonder Technology Lab - 0.36 Miles
Luxury Hotels
The
Four Seasons
, The Ritz, Marriott, Holiday Inn or any of the
Hilton Hotels in London
you can find all these luxury hotels and others, in total over 15.000, on the luxuryhotelsin.com site. Luxury resorts range from Hawaii beach resorts to the most exlculive Villas in the Caribbean Islands and luxury ski resort in the mountains of Jackson Hole, Wyoming, Aspen, Colorado, or Park City, Utah for the winter season. A list of all luxury hotels and useful luxury travel tips when shopping, dining and wining, sightseeing, staying in one of the most exlusive 5 star hotels in New York City, London, Paris or Madrid.
Budget Hotels in New York
Be it in downtown Manhattan or uptown Harlem, near to the Central Park and financial district skyscrapers or the surrounded by upper the westside residential houses. A list of all budget hotels in New York and useful luxury travel tips for nightlife and shopping.