Description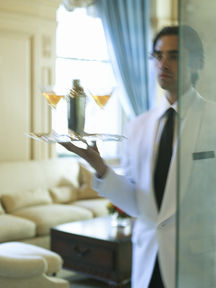 Location. Striking a palatial presence by Central Park and Fifth Avenue, The Plaza is a New York legend, its very name synonymous with class. Guests can use the Plaza as a base for shopping, sightseeing and Broadway shows, all located within walking distance or easy rides. Following a $400 million, two year renovation, the Plaza has reopened in 2008.
Hotel Features. Built with all the pomp, glory and opulence of a French Chateau, The Plaza is exquisitely decorated, with remarkable elegance in each meticulous detail. The 18 story white brick and marble building was designed in the French Renaissance style in 1907, and is listed on the National Historic Landmarks Program. The Palm Court, known for its legendary Sunday brunches and afternoon teas, provides guests with a lavish, Old World garden setting complete with piano and violin music. The Plaza's world class retail collection boasts chic boutiques. Health and wellness facilities include a Caudalie Spa, Fitness Center by Radu and the Warren Tricomi Salon.

Guestrooms. The Plaza's 282 guestrooms are just as elegant, equipped with the original crystal chandeliers, formal drapes and carved plaster ceilings. Amenities include flat screen televisions and high speed Internet access. Sumptuous bathrooms offer fluffy heated towels.

Expert Tip. The Plaza stands along the west side of Grand Army Plaza, from which it derives its name, extending Central Park South in Manhattan. The Grand Army Plaza commemorates the Union Army in the Civil War.
The Plaza
Fifth Avenue at Central Park South
10019
Directions
From LaGuardia International Airport:
Approximate distance to the hotel is seven miles.

Drive northeast on LaGuardia Road.
Turn left toward Terminal A.
Turn slight left onto Central Terminal Drive.
Take the Airport Exit ramp.
Merge onto Grand Central Parkway West toward Manhattan.
Grand Central Parkway West becomes I 278 East.
Take Exit 45 toward 31st Street.
Turn left onto Astoria Boulevard North.
Turn left onto 31st Street.
31st Street becomes NY 25A.
Turn right onto Queens Plaza North.
Turn left onto Queensboro Bridge.
Stay straight to go onto Queensboro Bridge Lower Level.
Take the 2 Avenue South ramp.
Take the 60 Street West ramp.
Turn left onto East 60th Street.
Turn left onto Fifth Avenue.
Attractions
Area Attractions: Museum of Modern Art
Frick Collection
Madmae Tussaud's New York
Central Park Wildlife Center
Trump Tower
Midtown
Radio City Music Hall
Nearby Landmarks
Tiffany & Co. - 0.12 Miles
Dahesh Museum - 0.22 Miles
Barney's - 0.23 Miles
Sony Wonder Technology Lab - 0.29 Miles
Central Park - 0.33 Miles

Luxury Hotels
The
Four Seasons
, The Ritz, Marriott, Holiday Inn or any of the
Hilton Hotels in London
you can find all these luxury hotels and others, in total over 15.000, on the luxuryhotelsin.com site. Luxury resorts range from Hawaii beach resorts to the most exlculive Villas in the Caribbean Islands and luxury ski resort in the mountains of Jackson Hole, Wyoming, Aspen, Colorado, or Park City, Utah for the winter season. A list of all luxury hotels and useful luxury travel tips when shopping, dining and wining, sightseeing, staying in one of the most exlusive 5 star hotels in New York City, London, Paris or Madrid.
Budget Hotels in New York
Be it in downtown Manhattan or uptown Harlem, near to the Central Park and financial district skyscrapers or the surrounded by upper the westside residential houses. A list of all budget hotels in New York and useful luxury travel tips for nightlife and shopping.