Description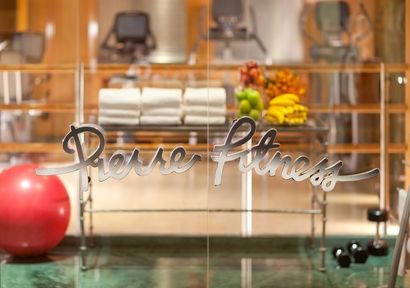 Location. The historic Pierre hotel stands across from Central Park at Fifth Avenue in Manhattan's Upper East Side neighborhood in New York City, N.Y. Fifth Avenue and Madison Avenue shopping are four blocks from the hotel. Rockefeller Center and St. Patrick's Cathedral are 10 blocks away. Times Square and the United Nations Headquarters are one mile from the hotel.
Hotel Features. Rich with 1930s detail, the Pierre is decorated with hand painted murals and Italian marble. The Pierre's signature room, The Rotunda, features an intricately designed mosaic tile floor and offers a traditional English afternoon tea. Other dining options include Café Pierre specializing in continental cuisine and the Pierre Bar, which offers hors d'oeuvres and light snacks. In room dining is available 24 hours a day. The hotel's 24 hour business facilities include 18,000 square feet of meeting space, five conference rooms, multiple computer workstations and wireless Internet access. Cardiovascular equipment and strength machines, including treadmills, Lifecycles and StairMasters, are available in the complimentary fitness center. Two salons are located on site and offer massages, facials and hair care for men and women.
Guestrooms. Guestrooms at the Pierre are embellished with fine artifacts and décor. Down pillows and duvets cover beds. Bathrooms feature oversized cotton bath towels and terry cloth bathrobes. Refrigerated private bars are included. Select rooms offer views of Central Park and the Upper East Side.
Expert Tip. The Pierre lives up to its family friendly reputation by offering an array of children's amenities. Bedtime milk and cookies, child size bathrobes, complimentary baby and children's toiletries and children's menus are just a few of the many special services offered to families with children. Complimentary use of highchairs, strollers and toys is also offered.
Hotel Closure Notice:
The hotel is scheduled to be closed for renovations beginning January 1, 2008. The expected reopen date is January 1, 2009. These dates are subject to change.
The Pierre, A Taj Hotel
2 E 61st St
10021
Directions
From LaGuardia Airport:
Approximate distance to the hotel is six miles.

Drive northeast on La Guardia Road.
Turn left toward Terminal A/Marine Air Terminal/Rental Car Returns.
Turn left onto Central Terminal Drive.
Take the airport exit ramp.
Merge onto Grand Central Parkway West toward Manhattan.
Grand Central Parkway becomes I 278 East.
Take Exit 3 toward Hoyt Avenue.
Turn left onto Astoria Boulevard North/I 278 Truck E.
Turn left onto 31st Street.
31st Street becomes NY 25A.
Turn right onto Queens Plaza North/Bridge Plaza North.
Turn left onto Queensboro Bridge.
Stay straight to go onto Queensboro Bridge/59th Street Bridge.
Take the 2 Avenue South ramp.
Take the 60 Street West ramp.
Turn left onto East 60th Street.
Turn right onto Park Avenue.
Turn left onto East 61st Street.
Turn left onto 5th Avenue.
Nearby Landmarks
Barney's - 0.16 Miles
Tiffany & Co. - 0.32 Miles
Central Park - 0.35 Miles
Central Park Zoo - 0.36 Miles
Dahesh Museum - 0.39 Miles

Luxury Hotels
The
Four Seasons
, The Ritz, Marriott, Holiday Inn or any of the
Hilton Hotels in London
you can find all these luxury hotels and others, in total over 15.000, on the luxuryhotelsin.com site. Luxury resorts range from Hawaii beach resorts to the most exlculive Villas in the Caribbean Islands and luxury ski resort in the mountains of Jackson Hole, Wyoming, Aspen, Colorado, or Park City, Utah for the winter season. A list of all luxury hotels and useful luxury travel tips when shopping, dining and wining, sightseeing, staying in one of the most exlusive 5 star hotels in New York City, London, Paris or Madrid.
Budget Hotels in New York
Be it in downtown Manhattan or uptown Harlem, near to the Central Park and financial district skyscrapers or the surrounded by upper the westside residential houses. A list of all budget hotels in New York and useful luxury travel tips for nightlife and shopping.